California Western Alumni Board Supports City Heights Community Law Project
Golf Tournament proceeds help clinic provide access to justice for underserved residents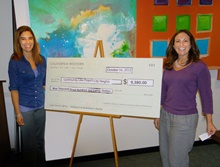 From left: Veronica Ayesta,
Outreach Coordinator, City Heights
Community Law Project; and
Eden Yaege '07, President,
Alumni Association Board of Directors
SAN DIEGO, October 18, 2013 - California Western School of Law's Alumni Board of Directors this week presented a check for $9,380 to the law school's City Heights Community Law Project, after the board voted to use the proceeds from the 2013 annual golf tournament to benefit the project.
"Each year the Alumni Board raises money for a program associated with the law school, says Alumni Board President Eden Yaege '07. "This year we chose the City Heights Community Law Project due to its excellent work in an underserved community. The Alumni Association is proud to be a part of the community through our support of the Community Law Project."
According to Lori K. Boyle, California Western's Director of Development and Alumni Affairs, since 2007, the Alumni Association has raised more than $150,000 for law school programs.
"The generous donation made by the Alumni Association will help support these clinical and educational programs, as well as help create a local office in City Heights where volunteer attorneys and attorneys participating in California Western's Access to Law Initiative can meet with clients during non-clinic hours," said Community Law Project leader Drew Lautemann '09, on behalf of the CHCLP leadership. "This will expand the number of attorneys who can participate, and, most importantly, help us better meet the needs of the community."
The City Heights Community Law Project's mission is to collaborate with community partners to provide City Heights residents access to free, holistic legal and social community-based services that address community members' existing legal matters as well as prevent future legal concerns through community education and advocacy.
The program started in 2009 and has quickly expanded. With the support of volunteer attorneys, community members, and law students, it provides workshops and legal clinics to three local schools–Rosa Parks Elementary, Monroe Clark Middle and Hoover High School. Community members can stop in to any of the schools during weekly clinic hours for free attorney consultations, evaluations, and referrals to nonprofit organizations and other agencies. Volunteer attorneys and law students also put on numerous educational workshops to inform the community about common legal issues.
The Community Law Project also operates separate clinics in downtown San Diego and Lemon Grove.