Events Calendar
---
S. Houston Lay Lecture: The Judiciary and the Chilean Military Dictatorship
Start: January 16, 2014 12:15 PM


2014 S. Houston Lay Lecture: Judge Juan Guzmán Tapia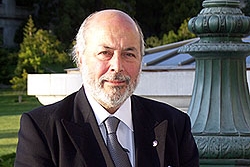 Photo Courtesy: Universidad Central, Chile
WHAT: "The Judiciary and the Chilean Military Dictatorship"
WHO: The Hon. Juan Guzmán Tapia (Ret.), a lawyer and former Chilean judge who gained international recognition for being the first to prosecute Chilean dictator Augusto Pinochet on human rights charges.
WHEN: Thursday, January 16, from 12:15 p.m. to 1:15 p.m.
WHERE: California Western School of Law, Room LH2
RSVP: If you would like to attend this event, please RSVP to Marlene Blas.