Events Calendar
---
MCLE Program 2014
Start: January 30, 2014 04:45 PM


The California Western School of Law Alumni Association
in partnership with the Career Services office invites you to attend:

MCLE Program 2014

♦♦ Open and Complimentary to All Attorneys ♦♦
WHEN: Thursday, January 30, 2014
SPEAKERS:
Michael L. Crowley '84 is a criminal law specialist, and the founder and lead attorney of the Crowley Law Group in San Diego.
James J. Eischen, Jr. of Higgs Fletcher & Mack specializes in corporate and securities, health care, and real estate law.
M. David Meagher '94 practices SLAPP litigation, business litigation, and consumer protection at The Law Offices of M. David Meagher.
SCHEDULE:
4:45-5:15 p.m. – Registration and Refreshments
5:20-5:30 p.m. – Welcome and Introductions
5:30-6:30 p.m. – Ethics: "Ethical Pitfalls of Social Media & Social Interaction" (Crowley)
6:35-7:35 p.m. – Substance Abuse: "Recognition, Understanding, and Intervention" (Meagher)
7:40-8:40 p.m. – Mental Illness: "Preventing Professional Distress: Practical Mental Health Tips" (Eischen, Jr.)
WHERE: California Western School of Law, Academic Building, 350 Cedar Street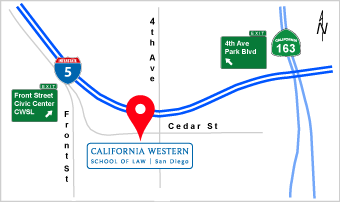 RSVP: Please reserve your seat with Lielah Minoo by Friday, January 24, 2014.
PARKING: Street Parking
♦♦ Seating is limited, and will be accommodated on a first-come, first-served basis ♦♦