Events Calendar
---
2014 DeWitt Higgs Memorial Lecture: "Retaining Government Power to Make Economic Policy for Internet Access: The Role of the First Amendment"
Start: April 15, 2014 12:15 PM


California Western, the Center for Comparative Immigration Studies at UC San Diego, and the Higgs family present:
2014 DeWitt Higgs Memorial Lecture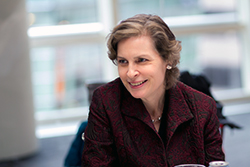 Photo Courtesy of Bloomberg - Philip Lewis
WHAT: "Retaining Government Power to Make Economic Policy for Internet Access: The Role of the First Amendment"
WHO: Susan Crawford, John A. Reilly Visiting Professor in Intellectual Property at Harvard Law School
Crawford is Professor of Law at the Benjamin N. Cardozo School of Law and a visiting professor at Harvard Law School. She is the author of Captive Audience: The Telecom Industry and Monopoly Power in the New Gilded Age and served as Special Assistant to the President for Science, Technology, and Innovation Policy in 2009.
WHEN: Tuesday, April 15, 2014 at 12:15 p.m.
WHERE: California Western School of Law, LH2
RSVP: To RSVP, please contact Marlene Blas.
About the DeWitt Higgs Memorial Lecture:
DeWitt "Dutch" Higgs graduated from California Western School of Law in 1934, and was a pillar of the San Diego legal community. He was a founding member of the firm Higgs, Fletcher, and Mack, and served as a UC Regent for 16 years. To honor his contributions to the law, education, and academic freedom, California Western and UC San Diego, in conjunction with the Higgs family, present the DeWitt Higgs Memorial Lecture each year.
The list of recent speakers includes San Francisco mayor Gavin Newsom, UC Berkeley professor and journalist Mark Danner, Geoff Hoon (former leader of the British House of Commons), and NYU professor Jerome Cohen.