Outcomes
---
Against all Odds: Claudia Garcia's Road to California Western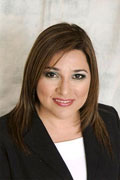 It was over twenty years ago that Claudia Garcia '96 accepted a part-time job at the deli across the street from California Western. Each day she would prepare sandwiches and salads for the law students, while quietly observing them as she crafted law school dreams of her own.
As an undocumented teen who emigrated to the U.S. from Tijuana, Claudia came to the U.S. with no knowledge of the English language. She often lived in fear of being discovered and sent back to Mexico. She recalls that even the sign of a security guard at California Western would make her stomach turn; they looked so much like police who could uncover her secret and send her home.
Claudia observed the students up on the balcony across the street from the deli - studying, talking, drinking coffee between classes. She said to her co-worker and friend at the deli, "One day, you'll see my up there." Though she was still learning English and had never been to college, it was nonetheless Claudia's dream to some day attend law school at California Western.
Fueled by her own tenacity and a commitment to her future, Claudia started by pursuing her associates degree. She also took three years of ESL classes in New York, before returning to San Diego and applying to the University of California, San Diego (UCSD).
It was there that one of her counselors told her "You're good at learning, Claudia." Though she had never been told that before, the statement was powerful, and it reinforced a truth Claudia had always known about herself.
It is true that Claudia always had a drive to work hard and challenge herself personally and professionally. She believes she was born with it. "I think you either have it or you don't," she says. "I've always had this tremendous sense of confidence in myself."
Claudia graduated from UCSD and opted to have her diploma sent to her in the mail. At the time, she reflects that she didn't have the money for a graduation dress, so she decided to skip the graduation ceremony entirely. As a student, Claudia always worked and studied hard, and says she never looked at her grades or paid attention to her GPA. She says she just knew that being in school would lead to more opportunities, and that it wasn't about the grades. When Claudia's diploma arrived in the mail she noticed it said "cum laude." She had to call a friend to inquire what that meant.
It was in a Law and Society class at UCSD that Claudia met Professor Glenn Smith.
Smith asked Claudia if she had ever considered law school and encouraged her to apply to California Western. He wrote a letter of recommendation for her and supported her in her application process.
Many friends told Claudia she was too old to go to law school and that she wouldn't make it. While some resist challenges and adversity, Claudia seems to gravitate towards them. Claudia said, "I believe that when you're faced with something, whatever it is, you can handle it. I have always lived that way."
Claudia speaks from experience, as a woman who raised two sons by herself while working full-time and completing her undergraduate degree, and later completing law school.
Today, Claudia has her own practice in family law in greater San Diego Couty. After practicing locally for 10 years, her business is flourishing. She embodies the ideals that anything is possible and that it's never too late to pursue your dreams.
Claudia, along with Adjunct Professor Lilia Velazquez, have appeared regularly on a Spanish TV show called "Despierta America" on Univision (Cox channel 17) to discuss issues related to family law. The show provides the Latino audience information regarding obtaining free legal services and general information about American law. Claudia believes that there is a lot of misinformation among Latinos regarding obtaining a divorce in the U.S. Part of Claudia's commitment as a lawyer is to simplify and explain the rules for Latino audiences.