Outcomes
---
Living the Life He 'Dreamt About'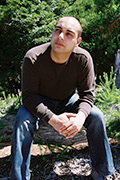 Abbas Kazerooni '06 journeyed from the mean streets of Istanbul to California Western to pursue law and take a role in helping immigrants like himself. This broad perspective lead him to pursue a dual career in law and acting and live the life he dreamt about.
"Law is the most honorable of professions," he says, citing the philosophy of one of his California Western professors, William Aceves: "While a doctor has the ability to give you life, a lawyer is able to give meaning to your life."
Kazerooni passed the bar exam, and five days after being sworn in to the State Bar of California, hit the courtroom.
"My boss was upset that an attorney had not calendared a trial correctly, so like a good recent law school graduate, I offered to stay late and help," says Kazerooni. "I know it usually takes weeks to prepare for trial and I had less than a day. I stayed up all night and went to court the following day to try my first case."
Although Kazerooni won his first case, he says he would have never had the confidence without his California Western education.
On top of his legal profession, Kazerooni - also a graduate of the London Academy of Performing Arts - is developing a television series, and three other film projects he will produce and act in. While future plans combine both dreams of law and entertainment, he says law school has kept him grounded. "It has completely changed who I am as a person," says Kazerooni. "Law school has slowed me down and made me think things through a lot more than I used to."
"I believe the most important quality is actually caring about your clients," says Kazerooni. "If you genuinely care about them, you will go that extra mile for them and advocate for them to the best of your abilities."
A related story appeared in the Fall 2006 edition of Res Ipsa.