Outcomes
---
Fusion of Law and Sports Accomplish Life-Long Dream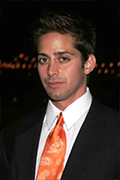 He's young, hard-hitting, and has an impressive background for a 28-year old. Mark Bloom '02 is a lawyer and sports agent in West Los Angeles, where his list of clientele includes Jabari Greer of the Buffalo Bills, cornerback Mike Bragg of the Kansas City Chiefs, Denver Broncos safety Hamza Abdullah, and New Orleans Saints fullback Keith Joseph. At his young age, Bloom is already a partner in sports management at AAI Sports and an associate at parent law firm Arias, Ozzello Gignac, LLP.
His dual role at the West LA firm isn't easy, but Bloom says his experiences at California Western enabled him to accomplish his life-long dream of becoming a lawyer and sports agent.
"I got a hands-on law school education at California Western," says Bloom. "The professors took time to make sure I was comfortable, which enabled me to stay focused on completing my studies on time so I could take a chance in the sports field."
He earned his law degree in two years and passed the bar exam at age 23. After almost a year of working as an agent at Synergy Sports Management in Columbia, S.C., he went to New Orleans to start Fusion Sports Management, and one year after Hurricane Katrina, moved back west to Southern California.
Bloom now balances his time between managing careers of professional athletes and working on complex litigation matters as well as business and employment litigation.
"I truly enjoy negotiating multi-million dollar deals and running a business, while using the practice of law," says Bloom, who is also a motivational speaker to youth organizations across the country. "My experiences have shaped my future and I hope I can inspire others to pursue their dreams and lead extraordinary lives as well."