Outcomes
---
The Road to the Majors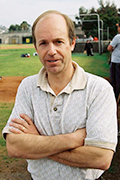 On June 7, 2007, Dave Pasti '88 sat in front of a computer at the home of Virginia Tech catcher Wyatt Toregas, watching the major league baseball draft unfold. Toregas, 21, was a highly touted draft prospect, one whom Pasti expected to go in the first 10 rounds. But after a sub-par 2004 season with Tech, their wait was long, and Toregas was finally drafted by the Cleveland Indians in the 23rd round.
Toregas is Pasti's client - one of about a dozen minor-league baseball players the attorney/agent represents. Pasti works with young players long before their draft day arrives, taking on the role of advisor for players and their families during the draft process and serving as their agent if they choose to sign. And although Toregas was disappointed after being drafted so low, he ended up the season hitting seven home runs and batting a solid .294 for Mahoning Valley in the New York Penn Rookie League. This 23rd-round draft pick may be catching for the Indians in the near future.
Watching one of his clients play for a Major League team is Pasti's number-one goal. He started his practice as a sports agent in 1997 and now Tim Hamulack and Taylor Buchholz, pitchers with the Red Sox and Astros respectively, have a realistic possibility of being called up to their major league clubs. This is the closest Pasti has been to his dream of becoming a major-league agent.
In a business like this, one of the qualities you must have is perseverance," Pasti said. "You can't expect to earn a living right away - you can't come out of law school and expect to represent athletes and do nothing else."
Pasti, 44, is speaking from experience. After graduating from California Western, he began working in criminal law, first for a small firm in Rockville, Maryland, and later in his own solo practice.
In his criminal practice, Pasti handled as many clients as he could, but as the practice grew and he worked on bigger and bigger cases, the job became more stressful, requiring him to spend more time in court and at the office and less time at home. But even with the added stress, Pasti didn't seriously think about a career change until his father's sudden death led him to question his role in life.
"I call it a mid-life assessment," Pasti said. "The more I thought about it I realized I wanted to use the skills I acquired as a defense attorney, but also do something I really enjoyed."
So Pasti went out to the ballgame. He started watching high school, minor league, and college games, observing the players and making connections with scouts and other agents. "I basically learned the ropes by going to the field," he said. Pasti soon began to meet with young players and their families who needed representation - often for the first time - during the draft. As an advisor to these players, Pasti explains the draft process and talks to them about the choices they will have to make and whether their expectations are realistic.
"I don't tell a player whether they should sign or go to college - these are personal choices for the players and their parents," Pasti said. "I lay out the options for them and give them advice as to how to handle either decision." And as the draft approaches they decide whether Pasti is a fit for them, something Pasti feels is essential to his business.
"It's important that my players value the personal relationship and attention I provide that the big agencies often don't," Pasti said. In addition, it is important for Pasti to find out whether a player is going to work hard to improve his game before taking him as a client. He doesn't want to put a lot of time - time that is mostly gratis before the player signs a contract - into a player who doesn't take his job seriously.
Pasti's trials of finding players and building relationships with scouts and coaches were recorded in a 2002 Washington Post feature story. A Post reporter followed Pasti from field to field during the 2001 baseball season as he watched his young players struggle on their climb up the baseball ladder. Now, three years later, Pasti's young clients who were featured in that story are on the brink of the Major Leagues, bringing Pasti closer to "having that one top player" that will close the gap between him and the big agencies and allow him to give up his criminal law practice for good.
A full version of this story appears in the Winter 2005 Res Ipsa.