Outcomes
---
Cynthia Harf '93 Finds Her Passion in Practicing Family Law and in Being a Mother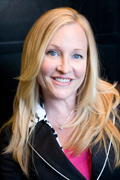 Cynthia Harf '93, now a family law attorney with the Offices of Myra Chack Fleischer, was a fantastic negotiator as a child. She recalls that her parents knew she would be an attorney from the age of ten. When considering her future career path during college, Cynthia wanted a profession that would utilize her innate negotiation and problem-solving skills and one in which she could fulfill all of her personal goals. Believing that law school would open the door to many opportunities, she applied to California Western in 1990.
In her early years at law school, Cynthia envisioned herself becoming an entertainment lawyer. Instead, she found herself practicing family law. "Practicing family law was never something I anticipated," Cynthia said. "But now that my career has taken this path, I couldn't be happier or more fulfilled with this choice."
As a new graduate, she gained practical experience when asked to assist a friend of a friend going through a divorce. The case ultimately turned into a bench trial. In preparation, she closely observed attorneys in the courtroom over a period of many months and learned everything she could from the experience. She says, ""It is one thing to study and know the law, but developing a courtroom demeanor is another important area in which to develop."
Her career was furthered as a young attorney through her work with Robert McFarland, an experienced family law attorney in Mission Valley. McFarland taught Cynthia the basics in the area of family law before she set out on her own, managing her own law office for the following ten years.
"I found that as I got into family law, I very much enjoyed being in court. It was exciting! I enjoyed my colleagues and appreciated getting to know my client on a more personal level. Many of my clients have stayed in touch with me over the years," describes Cynthia. One of the aspects about being a family lawyer which suits Cynthia is the ability to be called upon to be a resource and support for families encountering challenges and seeking advice.
Cynthia says cases involving and affecting children are her passion. "It's an amazing thing to be there for children who need an advocate." In 2004, Cynthia''s personal life changed as she and her husband welcomed their first child, Tanner. At that time, she began scaling back her work hours and case load. She ultimately closed her solo practice and worked as an independent contractor. Over the next few years her family would welcome two more children, Cooper and Montgomery Claire. In 2007 she began working at the Offices of Myra Chack Fleischer, which recently won an award for "2008 Outstanding Legal Management Professionals and Best Office Environment and Culture in a Law Firm."
Cynthia herself received personal accolades this year when she was named a San Diego County Top Attorney 2008 in the area of Family Law.
One of the things Cynthia appreciates most about her current work setting is the opportunity to work in an office with two other attorneys, Myra Chack Fleischer and Frann Setzer, who are also balancing being an attorney and being a mother. Working in this environment is important for Cynthia, who believes most lawyers - both men and women - have to learn to make choices that are conducive to a healthy work-life balance.
Regarding the connection between being a mother and a family law attorney, Cynthia says, "Being a mother intensified my passion for all cases involving children. Having children emphasizes my love of my career and helps me better understand the needs of my clients."
Her advice for current students and recent graduates involves being passionate and being aware of one's reputation from early-on in their career. "I am a firm believer that if you do something you'e passionate about, you will be successful," says Cynthia.
"As a lawyer, look for open doors, and when you're charged with the task of doing anything, educate yourself, know your options, and be true to your morality and your reputation."