California Western Alumni and the Law Library
---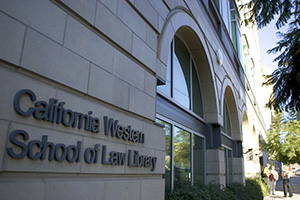 The California Western library is an important resource for both students and alumni
Graduates are welcome to use the California Western School of Law Library for legal research purposes. All reading rooms are open to graduates. The following are general policies that apply to graduate usage of the library and library resources. More detailed information is provided in our Library Guide, available for pick up in the Library Reference area.
Patron Cards
Your student library privileges end at graduation and your student patron record will be deleted. Graduates may obtain an Alumni patron card at the Circulation Desk. The card will give you access to the Library and allow you to check material out as detailed below.
Circulation Policies
Reserve materials may be checked out for two hours. Overnight materials are due at 8:00 a.m. the following day. You also have the privilege of borrowing circulating materials for two weeks. You will be subject to fines if you do not return library materials on time. If you do not pay overdue fines, you may be denied future borrowing privileges, and in extreme cases, denied library access.
Student Computer Lab Policies
The CWSL computers are here for the exclusive use of currently enrolled students. However, graduates may use the Student Computer Lab terminals for job search purposes. Job search purposes include resume preparation and job related Internet research. Graduates may not use the computers for any other purpose. A student's network account, including e-mail, will remain active for one year past the graduation date. After this time, a graduate must check out a password from the Circulation Desk to access the computers.
Westlaw and Lexis
California Western is pleased to be able to offer our graduates access to several job search databases on both Westlaw and Lexis. Unfortunately, Westlaw and Lexis access for graduates is limited to specific job search databases such as Martindale-Hubbell. Alumni are encouraged to contact the Career Services Office for further information and to obtain a password.
Study Room Policy
Graduates may not reserve study rooms in the 290 building. However, the study rooms may be used by graduates who are studying for the Bar, if not reserved by current students. Study rooms in the 350 building may be reserved by graduates who are studying for the Bar.