Career Services Alumni Programs
---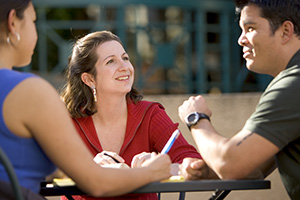 Career advisors are on standby to assist recent graduates entering the workforce
Congratulations on your tremendous accomplishment! The Office of Career Services is at your service to help you achieve that next milestone! Call 619-525-7087 to set up an appointment time convenient for you.
The following are some tips and services that can help you as you begin your career:
Meet with Graduate Career Advisor, Asha Wilbun, to map out a job search and career development plan. She will help you identify target employers, unearth new leads, strategize salary negotiations, and more. Contact Asha Wilbun today at awilbun@cwsl.edu.
Check CWSL's online Job Board daily! Immediate response to private sector postings increases your chances of landing the position. If you have not yet registered, go to the Career Services home page, click on "JOBS" and register for access to job listings. Check the student, post-graduate and alumni listings. If you need help accessing the site, call or email Asha Wilbun at awilbun@cwsl.edu.
Take advantage of experienced CWSL alumni, all over the country, who often have leads, valuable information, or open positions themselves and who are eager to help. Access our Bar Association information to find a professional association in your areas of interest. Improve your interviewing skills in a mock interview. Check other job listings in our office from multiple job publications and resources.
If you are not in town, set up a telephone conference to take advantage of these services no matter where you are located. We can also arrange for you to utilize the resources of a law school career services office near you.
Important Information on CWSL's Loan Repayment Assistance Program
If you begin working for a 501 (c) (3/4) in a law related position of a non-profit organization, you may be eligible for the Loan Repayment Assistance Program established by California Western. Anyone working for such an organization with an annual salary of less than $45,000 a year can apply for an award. For details, contact William Kahler, Director of Financial Aid, at wtk@cwsl.edu.
We are here to serve you now and in the future so be sure to tell us how we can help. Congratulations again and good luck as you embark on your career.