Volunteer as an Alumni Admissions Recruiter
---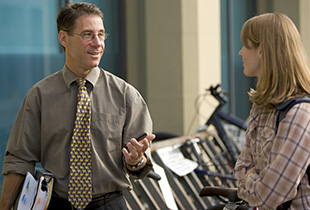 By becoming Admissions Recruiters, alumni have the option to share their experiences at California Western with prospective new students
Congratulations on your graduation! We are extremely proud of your accomplishment and are excited to welcome you as a member of the California Western alumni.
As a recent graduate, you have first-hand knowledge of our law school culture, our great faculty and top-notch programs; your experience is valuable to prospective law students. The Alumni Admissions Recruitment Program, developed several years ago, is a network of California Western alumni across the country who volunteer to work with Admissions to help us reach our enrollment goals.
Simply fill out our online volunteer form if you would like to participate.
Alumni Admissions Recruiters can participate in a variety of ways:


Converse by Email or Phone: Let us provide prospective students in your geographical area who are interested in your area of practice or who have attended the same undergraduate school as you with your e-mail address or phone number.
Contact Prospective Students: In the spring, after students have been admitted, you may be contacted and asked to call a local student who has been admitted to our program.
Attend Admissions Receptions and Other Events: Admissions sponsored Open Houses, Preview Days and Receptions are key programs that give us an opportunity to meet prospective students face to face. During these events, alumni assist law school representatives by speaking on panels or answering the questions of prospective students. By showing that our alumni are practicing in a wide variety of practice areas as well as geographic areas, we make California Western School of Law more attractive to some of the highest qualified students.
Attend Law Fairs: California Western is represented at a large number of law fairs and law forums each year (a major factor in the wide geographic diversity in our student body). Since the Admissions Office staff cannot attend every event, we count on you to help us. Even if we do attend, we always welcome the additional help.
Prelaw Clubs: We get requests from prelaw clubs for speakers on topics ranging from life as a law student at California Western to specialty areas in practice. Lend your expertise to some of the highest qualified students.
We are sensitive to your upcoming Bar preparation schedule and we know that you will soon have a demanding work schedule that will, no doubt, keep you busy. For these reasons, your time commitment as an AAR volunteer would be minimal.
We want to continue California Western's tradition of attracting impressive students and graduating outstanding attorneys like you. Your contact with prospective students could play an important part in helping us to maintain this tradition. To sign up for the Alumni Admissions Recruitment program, please complete our online volunteer form. Please call us at (619) 525-1401 if you have questions. Additionally, we welcome any suggestions you might have that will assist our recruitment program.
Thank you in advance for your continued dedication to your alma mater.
Traci D. Howard
Jean Whalen
Assistant Dean for Admissions
Associate Director, Admissions