Giving to California Western
---
Donor Recognition: Robert L. Hyde '02 and Joshua B. Swigart '02
California Western Classmates Find an Innovative Way to Give Back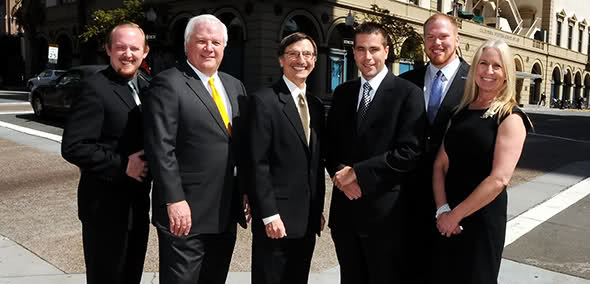 Robert L. Hyde '02 and Joshua B. Swigart '02, of Hyde & Swigart LLP, knew very quickly upon entering law school that their passions lay in consumer law. Today, as successful consumer rights attorneys, they believe that giving back to California Western is a priority, as it was the law school that prepared them for practice and for their successful legal careers.
"I was accepted into numerous law schools," says Hyde, "but when an admissions staffer called me directly to congratulate me on being accepted, I felt this indicated a personal touch I sought in a law school. I then immediately began the enrollment process for California Western. It proved to be one of my best decisions."
Today Hyde & Swigart operates offices in four major metropolitan areas including, San Diego, Riverside, Orange County, and Phoenix - all with the mission of representing consumers who can't represent themselves.
"At California Western I learned not only the practical applications of law, but had the opportunity to build strong and lasting relationships with my professors," says Hyde, "an opportunity not often afforded at larger schools."
This element of the California Western culture helped them stay close to their professors, even as they approach their ten year reunion.
In novel style, Hyde and Swigart decided they would make a gift to the law school upon the successful completion of a significant consumer rights class action. They were awarded the settlement and made a $30,000 gift to California Western's Institute of Health Law Studies. Both feel that the excellent education they received at California Western built the foundation for their success, and know that for that foundation to continue to benefit future generations of attorneys, private support is essential.
"California Western's Career Services department was very helpful," recalls Swigart, "in fact the entire law school has been and continues to be a supportive resource for our practice. Whether researching in the Law Library, needing an intern, or seeking counsel from the faculty, it is because of this connection that we feel so strongly and continue to give back to the law school."
Both Hyde and Swigart are thankful for the education and opportunities they received at California Western. It is what drives them to continue their support and make a difference through their giving.
California Western would like to acknowledge Robert Hyde '02 and Joshua Swigart '02 for their philanthropic support. To find out how to support your passion, contact Lori Boyle at 619-515-1543.
---