Outcomes
---
Kimberly A. Dimino '11 Leverages Maturity for a Successful Law School Experience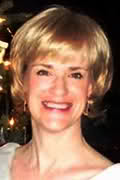 Kimberly A. Dimino is an expert in re-invention. With 20 years of nursing under her belt, she felt the calling to help with medical malpractice cases, and started a legal nurse consulting business. Not content to stop there, she has set her sights on a new career in litigation. Dimino graduated from California Western in December of 2011.
"I couldn't see myself doing what I was doing for the next 20 years. It was time to take the next step," says Dimino.
That step meant incorporating her interests in health care and advocacy into a new career. "My law degree carries a concentration in Health Law. My goal is to try out trial work doing medical malpractice defense work and then hopefully move into an in-house counsel position working with a hospital system," says Dimino.
The California Western School of Law degree program, with a concentration in Health Law, is one of the only of its kind in the western United States, which made it a very propitious opportunity for Dimino. "There was no other area of law I planned on pursuing, so the only school for me was California Western," says Dimino of the decision that involved moving her entire family from Utah to California.
"My husband travels with his job and as long as we were close to an airport, he was good to go," says Dimino. But the move proved a bit more complex with regard to her children. While her daughter stayed behind to continue college in Utah, her son had to start fresh in a new state – during his junior year in high school. "But the move proved good for him as he has found new direction with the change in scenery," says Dimino.
Once she got the family established in San Diego, Dimino promptly set about building a campus support system.
"I immediately wanted to connect with the Institute of Health Law Studies (IHLS), so I met with Pam Tait, Program Administrator, my first week of school to fully understand what the process was and what classes I needed to take," says Dimino. That visit was shortly followed by one with Professor Bryan Liang, IHLS Executive Director, to plan her course of action. During that meeting she learned more about the Health Law Society (HLS), an integral part of the IHLS, and joined.
At about the same time, she learned about Older, Wiser Law Students (OWLS), a supportive community for non-traditional law students, and joined that group too. Involvement in both groups proved instrumental in Dimino's success.
"Law school is hard. You need support," says Dimino. "HLS gave me the chance to meet some people who had the same interests as me. OWLS provided great support with fellow older students who were doing what I was doing… starting over after having raised kids, or while raising kids."
Becoming an active participant in both organizations (she served as President of OWLS and secretary of HLS and assistant student editor for Journal of Biolaw and Business) helped Dimino find the support she needed.
"Finding older students and students with the same interests as me shrunk the student body down to a smaller peer group which has allowed me to make some great friends," says Dimino.
She sees maturity as an advantage in managing her time well enough to be successful in law school.
"I was able to take on involvement in student organizations, work as a law clerk while taking classes and maintain excellent grades," says Dimino, who appeared on the Dean's list twice and has an honors designation attached to her academic concentration.
"I may not have the stamina some of the younger students do to pull all-nighters and cram into a few days what should have been accomplished in a week," says Dimino. "But I do have an advantage in that I have held a job, I have life experience beyond the classroom walls that mixes well with law, and I have fewer distractions than my younger classmates."