Outcomes
---
Timothy A. McNutt '09 and Porsha S. Venable '11 Apply Life Experiences
to Make Their Mark in New York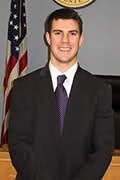 For many lawyers, experiences during their formative years influence and inspire a deep sense of civic duty.
"When I was young, my parents and grandmother gave me the freedom to chart my own course and instilled in me a sense of community responsibility," says Timothy A. McNutt '09. "They taught me that we are all equal, but some are just provided more opportunity. I hope to use my law degree to provide others with as much opportunity and good fortune as I have enjoyed in my life."
That goal has helped McNutt chart a course that has taken him from the Midwest to California and then to New York.
After graduating in 2005 from George Washington University in Washington, D.C., he returned home to St. Louis to work for the Missouri State Public Defender System as the Drug Court Representative, advocating for indigent clients to receive social services in lieu of jail. That experience whetted his appetite for solving problems and advocating for others' interests above his own. To do this, he needed a law degree.
Reputation for Public Service, Faculty Engagement Draws Students to San Diego
"I chose to attend California Western School of Law for two reasons," he says. "It has a reputation for public service and is known for professors who have real-world experience and are very accessible."
The school lived up to its reputation for McNutt, who established a close relationship with Professor Michael T. Yu.
"Professor Yu is responsible for most of my success in law school," he says. "I made the dean's list after taking his Community Property and Trusts and Estates classes (which I call essay-writing boot camp) and he taught me writing and study skills that helped me pass the New York bar exam on the first try." McNutt counts Yu as a close friend with whom he talks frequently.
McNutt excelled at his studies and applied his passion for public service to earning a position as one of only five law school students in the country to serve on the Equal Justice Works' National Advisory Committee. (Currently he serves on the Equal Justice Works Board of Directors.) In his fifth trimester of law school, he did a full-time clinical internship with the Brooklyn (Kings County) District Attorney's Office in the Major Narcotics Investigations Bureau.
"After passing the New York bar, I served as a Special Assistant District Attorney at the Brooklyn District Attorney's office and was responsible for running narcotics investigations and managing my own caseload in the Major Narcotics Investigations Bureau," he says. In September 2011, he was hired as an Assistant District Attorney in Long Island (Nassau County).
"As an ADA, I have to consider all sides of the criminal justice system," he says. "In making prosecutorial decisions, I have to not only do the right thing for society as a whole, but also make sure that the defendants' rights are being preserved. I have to make decisions that affect people's lives and may ultimately result in their freedom being taken away from them. I think my experience working for a Public Defender's Office gives me a unique perspective."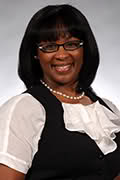 From the Bronx to San Diego, and Back Again
Porsha S. Venable '11 shares a similar perspective. Her wealth of life experience has informed her work as a lawyer.
"Growing up in the Bronx there are words that become a part of your every day speech," says Venable. "'They don't care about us,' are probably used most often and come from people witnessing arbitrary justice and policing every day. I heard my grandmother say it, my aunts, uncles, and friends. I began thinking there has to be something that can be done."
Armed with determination and a deep desire to make a difference, Venable graduated from the State University of New York at Buffalo and then earned a master's degree in Social Work from New York University. She promptly returned to her hometown to apply her social work skills with The Bronx Defenders, which employs a system of holistic defense to fight both the causes and consequences of involvement in the criminal justice system.
"When I walked through the doors of The Bronx Defenders six years ago, as a Client Advocate I did not know what to expect," says Venable. "My grandmother always said 'You get what you pay for, so if you pay nothing, expect nothing.' But within the first month I knew I was exactly where I was supposed to be. Never in my life had I witnessed passion, courage, and straight-up fight as I did with the staff in this office."
As a social worker and substance abuse counselor with The Bronx Defenders, Venable helped clients navigate government bureaucracies and worked alongside attorneys. It brought her a new perspective about law and social justice. That new perspective inspired a fresh desire and a big challenge: move across country to go to law school.
Support from CWSL Community Makes Cross-Country Journey a Bit Easier
"I remember thinking 'I can't move across the country, I don't know anything about California.' For weeks Jean Whalen in admissions answered all of my questions, and when she believed I would benefit from a student's perspective, she would enlist that help as well," says Venable of her decision-making process to come to California Western.
Once on campus, Venable received more support than she expected from faculty, especially from Kenneth Klein and Lisa Black.
"Professor Klein shared about his move from Texas to San Diego and he told us his experiences of feeling different and often questioning himself. Those personal accounts really resonated with me. They let me know I wasn't alone and that I wasn't the only one feeling out of my comfort zone," she says.
"One of the greatest benefits to going to California Western is the community," she says. "The professors know you and really care. Lisa Black is an excellent example. No matter where she saw me, she would stop and ask me how I was doing. She encouraged me to work on my writing, and not to give up on myself."
Those experiences have continued to influence Venable. Today, she is back at the Bronx Defenders, making a difference in the city where she was raised.
"Me, a poor girl from the Bronx, is no longer watching the injustice and feeling helpless," she says. "I am taking a part in transforming the criminal justice system and how it treats the people of the Bronx."
A Journey of Many Miles Brings Unexpected Changes
For both McNutt and Venable, their journey through law school and into law careers is not defined by the miles they traveled across country in pursuit of their goals. Rather, it is defined by the changes they see in themselves.
"I remember Dean Smith telling us during orientation that we would not be the same people three years from now. I thought that was impossible," says Venable. "But he was right. The process is humbling and served to carefully refine our goals, skills and personalities in order to prepare us to make a difference as lawyers."