In this issue of Res Ipsa, we take a global view of California Western, its many international programs, and opportunities for students and alumni. Plus, meet students and alumni with incredible personal stories, and learn how the legal contract as we know it is changing.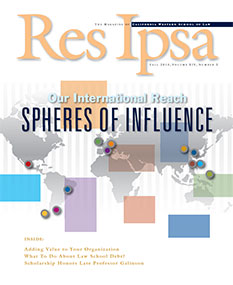 ---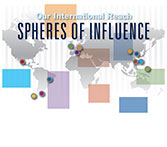 COVER STORY:
Our International Reach
Perched on the Pacific Rim and located just 20 miles from the gateway to Latin America, California Western School of Law has become a global force whose many international programs help reform judicial systems, promote human rights, free the wrongfully convicted, and improve the legal skills of thousands of foreign lawyers.
Read More »
---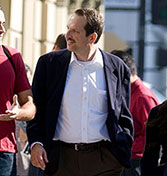 STUDENT PROFILE:
Former Navy "nuke" Michael Cosgrove
Third-year student Michael E. Cosgrove says the stress of law school is nothing compared to what he experienced in the Navy. Cosgrove served as a "nuke," working with nuclear reactors on submarines, retiring as Master Chief in 2010 after serving 24 years. "The Navy really prepared me for law school," he says. "They like to say the first year is the most stressful and I half-heartedly joke, 'this is not stress.'"
Read More »
---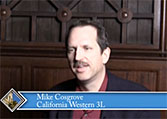 WEB EXCLUSIVE:
Video: Meet Michael Cosgrove
California Western third-year student Mike Cosgrove, a former U.S. Navy submariner, talks about his journey to law school and how the law school prepared him so well for his internships - including at the U.S. Department of Justice, In Washington, D.C.
Watch Now »
---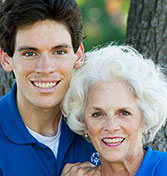 STUDENT PROFILE:
Special Olympian Erik Weber
The diagnosis was devastating: a high fever had suddenly left two-and-a half-year-old Erik Weber autistic. From a healthy, active youngster, Erik had virtually disappeared, losing all motor and language skills. He could only grunt or scream. That was the beginning of what today, more than two decades later, is one of the most remarkable student stories ever at California Western School of Law.
Read More »
---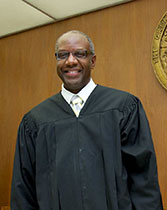 ALUMNI PROFILE:
The Hon. Michael D. Washington '94
This past August, Michael D. Washington '94, a distinguished public defender for nearly 20 years, was appointed to the San Diego County Superior Court bench by Gov. Jerry Brown. The San Diego State graduate worked as an accountant for the San Diego Regional Center before deciding he wanted to become a lawyer. A dedicated mentor and trial teams coach, Washington was honored with the Richard D. Westbrook Memorial Award for Outstanding Trial Advocacy and the California Western School of Law Faculty Award for Outstanding Trial Advocacy.
Read More »
---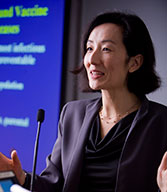 BRIEF:
Faculty Scholarship: Evolution of the Contract
The first contract in human history was not a written one but a promise between two prehistoric people. Something like, "If you bring me some wood, I will build you a fire." "The first promise where there was some sort of societally sanctioned way to enforce that promise-that was the first contract," says Professor Nancy S. Kim, who teaches Contract Law at California Western. "A contract is an agreement you can legally enforce." Enforced at the point of a spear? Who really knows? But the idea of a contract is at least as old as the Bible.
Read More »
---
THE FIRST FIVE YEARS:
What to do About Law School Debt
Among the most daunting challenges faced by recent law school graduates is the repayment of law school and other student loans. In 2012, the average law school graduate in the U.S. carried more than $100,000 in debt. So, what's the recent graduate to do? According to William T. Kahler, California Western's director of financial aid, graduates have a six-month window in which to take action.
Read More »
---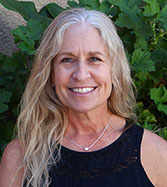 ALUMNI AFFAIRS:
New Avenues of Alumni Involvement and Engagement
At California Western, our commitment to supporting your professional growth doesn't stop at graduation. The office of Alumni Affairs takes an active role in helping you expand your impact by providing all graduates with programs that connect alumni to one another and to the resources of the law school. We believe that people who discover and follow their purpose can transform their community and the world.
Read More »
---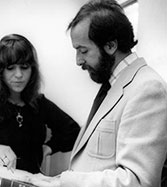 GIVING BACK:
Scholarship Honors Late Professor Murray Galinson
As a faculty member, trustee, and beloved member of the California Western community, Murray Galinson inspired those around him. The law school proudly honors his life and legacy through a scholarship recognizing those who inspire and are inspired by the law. The Murray L. Galinson Scholarship Fund supports incoming students with a passion for the law; those who maintain a commitment to academic achievement, who demonstrate a commitment to service, and who overcome significant personal or family obstacles to attend law school.
Read More »
---

HONOR ROLL OF DONORS:
2012-2013
The consistent support of our donors allows California Western to provide the kind of independent, innovative, and inspiring law school experience and training our students expect. This Honor Roll of Donors recognizes those individuals whose charitable contributions above $100 were received between August 1, 2012 and July 31, 2013.
Read More »
---
Copyright © 2013 California Western School of Law.
If you have questions or comments about Res Ipsa Online, please contact Pam Hardy.