Three Stars Converge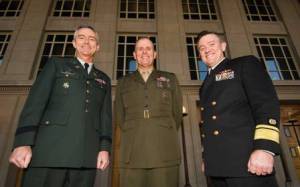 THE 7,364 CALIFORNIA Western graduates practice in virtually every field of law. Among alumni, there are judges in Nevada, medical malpractice attorneys in California, and partners in major law firms from Honolulu to New York City. In the military legal world, California Western holds a distinction unmatched by any other law school in the United States — alumni currently hold top leadership positions in the Army, Navy, and Marine Judge Advocate General Corps.

Black was stationed at Fort Ord in Monterey, Calif., when he was accepted into the Army's Law Education Program. "My wife and I visited nearly every law school in California," Black says. "We would show up unannounced at each campus and were usually told to look around on our own. But California Western's Admissions Office insisted that I meet with Professor John DeBarr, a former general and Marine Judge Advocate. It was this personal touch that led us to choose California Western."

Major General Scott C. Black '80 and Brigadier General Kevin M. Sandkuhler '81 lead the Army JAG Corps and Marine Judge Advocates respectively, and Rear Admiral Bruce E. MacDonald '87 is the deputy JAG for the Navy, and is being considered for promotion to the top spot this summer.

"I don't know of any time since I was in JAG when one law school was so represented in JAG leadership," says Professor Bill Lynch, who retired from the Navy JAG as a captain in 1978. "It is really an extraordinary feat for California Western."

Black, MacDonald, and Sandkuhler have all worked their way to the very top of their chosen professions. For their careers as military lawyers, graduating from California Western provided the launch.

From the National Forest to the Army

"I never really saw myself as a full-time soldier," Black says. "After growing up as the son of an army officer, I thought I'd had enough."

Black began his undergrad work at Cal Poly San Luis Obispo, where he initially studied natural resources management with visions of being a park ranger. His focus soon changed to political science with law school being the next goal. But soon after receiving a "very, very low draft number," he entered ROTC.

Nearly 30 years after joining the Army to "preserve [his] status as a student," Black was promoted to Judge Advocate General for the U.S. Army in October 2005. He is now in charge of 10,000 soldiers and civilians — 5,000 of them attorneys — in 328 Army JAG offices in 22 countries. That's a long way from aspirations of becoming a park ranger.

Choosing California Western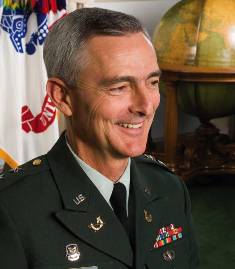 Black, 53, says his three-year stop in San Diego was one of the best assignments during his 30 years in the Army. He attended California Western from 1977 to 1980, which was one of the longest stops for his family, who have moved 24 times during his career.
"We almost have moving in our blood at this point," Black says. "But the adventures are unmatched and every place has been fun in a different way." Black, his wife Kimberly, and their four children have lived everywhere from Heidelberg, Germany, to El Paso, Texas, to Washington, D.C. Their adventures took them all over the Middle East and Europe where they "skied the Alps, rode the Orient Express, and wandered the back streets of Prague."
"Over the years I had many opportunities to take civilian jobs," Black says. "But Kim and I would always ask ourselves, 'Which would be more fun — the civilian job or the next Army assignment?'"
In addition to the "fun equation," Black says he has enjoyed the diversity in JAG Corps practice, where he has been a family law attorney, prosecutor, defense attorney, legislative counsel, and assistant counsel to the president at the White House, among other positions. "It's really a fascinating way to practice."
This diversity of law practice is coupled with the fact that 27 percent of Army JAG attorneys are women, a statistic in which Black takes pride. In addition, he stresses that the Army JAG provides opportunities for graduates to succeed on merit — not promoted based on what law school they attended.
Black has worked with several other California Western graduates in the Army JAG Corps, including Colonel Lauren Leeker '84 and Lieutenant Colonel Lorianne Campanella '90.
"Every Cal Western grad in my Corps has been magnificent," he says.
The Subject of War
Among Black's charges in the Army JAG are 650 attorneys and paralegals stationed in Iraq, providing legal assistance to deployed soldiers, giving legal advice during negotiations, trying criminal cases, and assisting every day in all forms of stability and support operations. Although Black himself has not served in Iraq, he feels the impact of the service each day, knowing that so many in his charge are in a war zone.
"Regardless of the nature of the JAG service, our soldiers — lawyers and paralegals — live in the same place and are exposed to the same hardships as every other soldier in Iraq. They are all volunteers, and I'm very proud of them," he says.